By Isra Qassim.
In a Liga night of Saturday, Barcelona met Granada in Camp Nou, where it is hard for teams like Real Madrid to get to result in, everyone thought Barca would win the game with ease as they are the stronger team on paper – and Granada's recent performances have been so poor that they were booed on their own turf by their own fans.
However it was far from reality, it was a difficult home game for Barcelona where they struggled for 86 minutes with a heroic performance from Granada's defense and hero of the night, Tono – their goal keeper. The game ended up with a win for Barcelona, anyway, as a wonder strike from Xavi and an own goal sealed the deal for them.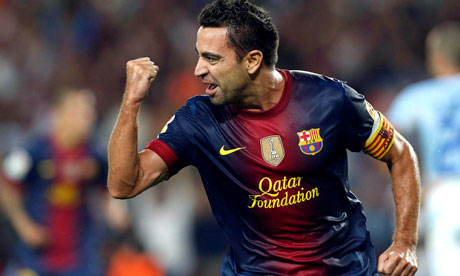 Barca's Saviour against Granada
Now some might argue that the reason for Barcelona poor performance was missing Iniesta, leave this argument for another day. Now you might look at my title thinking what does this have to do with what is written so far. Well now I get to my point; Messi, who is the 3 time ballon d'or winner, had arguably one of his worse games ever. Perhaps anyway one of the worst recently.

He couldn't make assists or continue his dribbling to cut inside and score, lost possession – and that, on one occasion, almost gifted Granada a counter attacking goal had El Arabi taken his chance instead of shooting it straight to Victor Valdes.

Messi is a Human being and any Human being can have a day on the pitch. He was angry and frustrated – with himself and also with his team-mates.
This frustration resulted into Messi have a got at Villa, just before half-time, for passing the ball too late. He shouted at him 4 times, "Why didn't you pass earlier, Villa?", Villa responded causing an altercation infront of cameras for millions of people around the World to see.
Villa Replies To A Frustrated Messi
Now isn't this enough news for media or press around the world to go around speaking of a feud happening in Barca's dressing-room? But no, everyone jumped into the defense of Messi, how it is positive and how it motivates his teammates or it happens in games all the time.
I am not in any shape or form saying these things don't happen in a game. I am a Real Madrid follower, I have seen Iker, for example, many times just screaming at his defenses to move or position themselves or even be angry at them after conceding a goal, these stuff happen.
However, let's imagine for a second that Cristiano was screaming at Higuain for not passing ball in a game. Which kind of new inside civilized war will be in RM dressing room? Argentina vs Portugal or Higuain actually thinks that Messi deserved more of Ballon d'or and told Cristiano he isn't as good as Messi and that's why Cristiano screamed at him? Or Cristiano is just purely arrogant and a narcissist?



You think I am exaggerating? Well, Iker didn't celebrate Cristano's winner vs City – Iker actually doesn't usually celebrate in a crazy way unless it means something big and winning a home group stage game in UCL doesn't come under the criteria maybe (but the real reason was that one of his faithful young fan died of a long term disease as mentioned by newspaper sources after all sorts of rumours were flying around) – however did this stop media from speaking about a feud and hate relation that is between Cristano and Iker? No it didn't.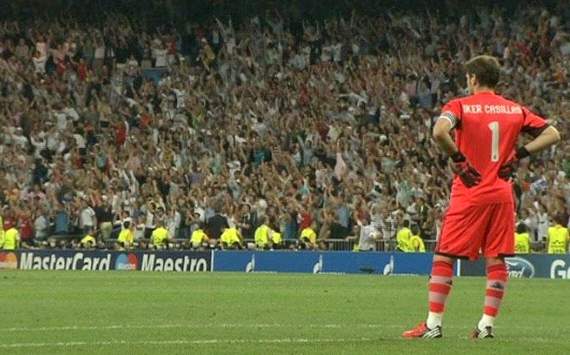 A Motionless Iker
Ramos was dropped in ONE game for a technical decision, media went on stories how he is punished for going on against his coach and that Ramos is now in bad terms with Mourinho, even though Ramos has been average after the Euros. But no, let's believe that Ramos hates Mourinho after all he invited his "support group" for lunch to complain about him.
People say that Real are a big Club and thus media always like to talk about them, so aren't Barca a big Club? Or is it because news regarding Real – like people more interested in Cristano accusing Iker on stealing his hair-gel trying to cover his bald spots on his head – sells more? Or is it just pure media hypocrisy that they just like to talk about Real?
(Talks of rift in Barca's dressing room were reported, but by very few media outlets - not as much as how the aforementioned Real-regarding rumours were talked about worldwide.)
Yes, Real have 2 outspoken personalities in Mourinho and Cristiano, but that doesn't mean that it should make them subject of unfairness – especially when both of them have changed to become more conservative than before.
So what is the reason for this double standard? Is it because Real are a bigger Club or is it because some hypocrite media outlets? I'll leave this for you to decide.